How does a bachelor's pad look like? Most people would stereotype the bachelor's pad as messy or empty, with only a game console and television as its centerpiece. Describing bachelor pads as such would be an injustice to those who take the time to make their homes look presentable to their guests. While most people think that interior design is for females who like aesthetics, it is also possible that your space can be both masculine and stylish.
Good things do not come easy. Knowing the right pieces to place in a bachelor pad makes all the difference. Here are elements of a modern bachelor's pad that you can incorporate into your home for an upgraded look.
1. Choose classic, neutral colors.
It's best to choose a color palette first before deciding on other design elements. For one, you can never go wrong with neutrals. But if you want to explore more, you can go for darker hues of blue and green paired with warm-toned neutrals. Timeless neutrals like blacks and whites can go with any space. If you want to add more accent, you can add brass or gold touches, too.
2. Play with textures.
A sophisticated masculine space features the right mix of textures. There is a balance between rough, weathered, and smooth textures. Going for natural materials like unfinished wood and stone can make a space look and feel more masculine. Adding color to these natural textures can also make it seem more put-together.
Make your room more distinct with a stylish stone countertop. These pieces are smooth yet sharp, which can go well with your aesthetic. This will bring life to your room and work as a divider for your kitchen and dining areas. You can also make it a mini-dining area for when you are alone. This upgrade will go well with your modern design.
You can also add metallics to your designs. Metallic finishes on lighting fixtures and accessories are appealing to the eyes. You can try out oxidized metallic finishes as accents that will compliment your knobs and handles. You can also pair metal chairs with your stone tabletops for a good textured balance.
3. Go for geometric patterns.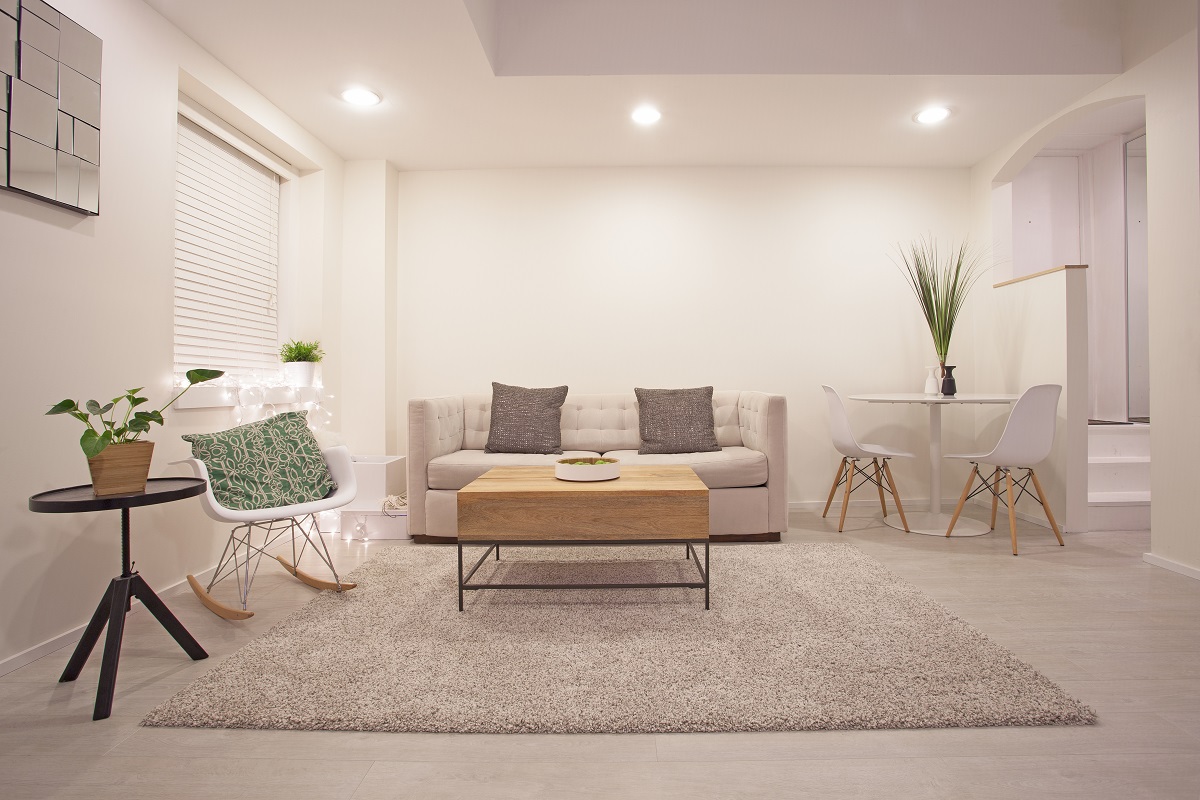 There's no such thing as a pattern that is strictly masculine or feminine. But you can never go wrong with incorporating geometric patterns into your modern bachelor space. Curves can feel soft and more appropriate for light-colored themes. If you're going for the clean, dark look, go for lines and sharp edges.
These clean lines and edges are easy on the eyes. Even the simplest design will pop up with sharp shapes. Even if you are building a man cave, you can explore accessories, too. You can add accessories with this aesthetic, too, be it a rug, a chandelier, or a table accent. You can also add statues, pottery, and even vintage books as accessories.
Adding patterned textiles into your living room could also make the design pop out. These can make a neutral-colored space into an interesting visual feast. If you're feeling more creative, you can invest in geometric furniture.
4. Invest in an art piece.
A good piece of art can make any space look striking, even masculine spaces. Art is an easy way to add spice to a neutral space. Some homeowners invest in multiple pieces that look like gallery walls to create a statement. Others settle for commissioned wall art. If you are into photography, you can frame your favorite prints and make them a wall accent. You can also connect the theme of your art to existing decor for more depth.
5. Add at least one leather piece.
Whether you are designing for someone else or a bachelor looking for an upgraded home look, you can never go wrong with at least one good leather piece. It could be a sofa, side chairs, or an ottoman that your guests can rest in. You can also choose leather beanbags for a hip look. Leather works great on different textures and patterns. You can also play with neutral-colored leathers to make your room feel bigger and well-thought of.
6. Consider your lighting.
Dim is good, but a well-light space is better. You would not want your guests to squint the whole time. Make sure your common areas are well-lit so you can see what's going on. Good lighting makes all the difference because it makes your well-designed room stand out. Explore options for ceiling fixtures or industrial lamps that go well with your masculine theme.
Your bachelor pad does not have to be boring. Whether you're out to impress or want something nice for yourself, it pays to have an attractive home. Invest in the right pieces and patterns and make your place stand out.