If you're looking to enhance your backyard this spring, look no further. We have some quick and easy tips to help make your backyard look great. Whether you're looking to add a few plants or want to redesign the entire space, we have you covered. So get ready to take your backyard from drab to fab this season!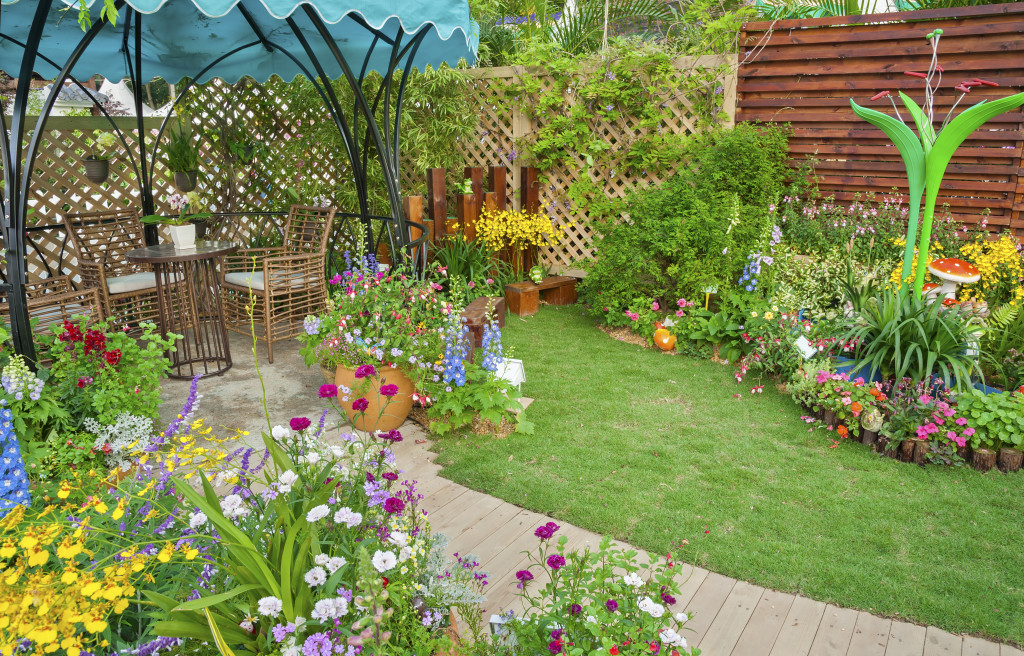 Improve the look of your backyard with plants
If you want to add some color to your backyard this spring, start by adding new plants. To make it easier on yourself, focus on one area at a time if you can't afford to do everything all at once. For example, if you have an empty corner in the back of your yard that needs something, go ahead and get that area started.
You can get creative with your landscaping ideas this spring by using various types of plants that are in bloom. Consider things like tulips, daffodils, lilacs, forsythia, and grape hyacinths to brighten up your backyard. You can also use fruit trees or native perennials if you want to add a touch of nature.
Consider installing a water feature
If you're looking to add a little oomph factor to your backyard, then a water feature might just do the trick! Water features have been proven to work wonders. They give your backyard that soothing feeling and can create a peaceful environment that everyone in the family will be sure to enjoy.
Water features are a great way to enhance your backyard. There are many types of water features to choose from, so you're sure to find one that suits your needs and style. Some popular water features include fountains, ponds, and pools.
Fountains are a great way to add some visual interest to your backyard. They come in many shapes and sizes, so you can find one that perfectly matches your backyard's style. Plus, they provide a soothing sound that can be relaxing.
Ponds are another popular choice for water features. They can add a lot of character to your backyard and are perfect for those who love spending time outdoors. Ponds can also be a great place for plants and wildlife to thrive.
Pools are a durable water feature for those who want something more permanent in their backyard. They provide a lot of versatility and can be decorated to match your style or the rest of your backyard décor. You can even add some fun features such as diving boards or slides!
Add some color to your outdoor area
Add furniture and accessories. After you've added a water feature to your backyard, the next step is to add some furniture and colorful accessories. This will further enhance your outdoor space by giving it a more comfortable atmosphere for everyone in the family to enjoy.
There are many types of furniture pieces you can choose from, so finding something that matches your style and the rest of your backyard décor won't be hard. Plus, they come in many styles and designs to suit your needs.
Furniture pieces such as patio chairs, benches, ottomans, dining sets, and coffee tables are great for making yourself comfortable when you're outside. Try adding a few rocking chairs for a more rustic look and feel. If you love spending time outdoors, then adding some outdoor furniture is a must to enhance your backyard!
You can also work with a company offering couch grass installation services. The grass will transform your backyard and give it soft green scapes that are pleasing to the eye. It also creates a green oasis in your backyard that will encourage you to stay home amid the current pandemic.
Try adding some outdoor lighting
No backyard is complete without some outdoor lighting. And while you can always use your regular lights, there are some creative ways to add lighting to your backyard this spring!
First, consider adding small accent lights along the base of trees and bushes in your backyard. This will help highlight the greenery and give off an enchanting glow among the shadows.
You can also add string lights to trees and other structures in your backyard to add some visual interest. They're perfect for when the sun goes down and will provide a beautiful ambiance that everyone will enjoy!
Of course, you'll need to install them correctly, so they don't get damaged when it rains or when there's too much wind. This is where a landscaping company can help because they'll know exactly how to install the lights without causing any damage.
There are many ways to enhance your backyard this spring. You can add a water feature, furniture, and accessories. And don't forget about outdoor lighting! All of these additions will help make your backyard more comfortable and inviting for everyone in the family to enjoy.