Even if the world is slowly going back to normal, it will still be beneficial to us as homeowners to keep investing in our homes and making them the best they can be. We may be able to go out as we wish now, but having an outdoor living area where we can relax with our families and guests is still worth the price tag and effort.
If you're dreaming of a patio, deck, or balcony you can relax in, here are some dreamy, gorgeous, and cozy design ideas you can explore:
Bedroom escape
Instead of having the patio or deck extend from the living room or kitchen, why not consider extending it from the main bedroom? It can turn your bedroom into an oasis that brings you to an outdoor paradise, and the outdoor seating area will be a special, secret place for you that your guests can't access. This might involve completely changing the layout of your home, but that might be a good thing.
Mixing it up might help you see your property in a new light. Just make sure the coating of your deck is foolproof so that it's protected from the elements. The last thing you want is rainwater, dirt, dust, and other harmful particles entering your bedroom.
Cozy bricks
If you have an outdoor fireplace, consider turning using bricks to transform it. It will give your outdoor living area a feeling of warmth and coziness, especially when you partner the brick fireplace with a warm color palette like rust-red and warm brown, and wood accents and furnishings. If you live in an area with extremely harsh winters, this type of motif might work well for you to keep you and your family warm.
Plants and lights on the balcony
If you live in a high-rise condominium overlooking a busy city, why not transform your balcony so that it becomes your very own escape from the hustle and bustle of urban life? Even if your balcony lacks square footage, there are plenty of ways to transform it so that it becomes a space where you and your partner can sit down, have a glass of wine, and talk about your day.
You can do this by incorporating plenty of potted plants, area rugs, strategically decorated wooden shelves, and wooden furniture pieces. You can also hang up some fairy lights that are yellow-toned so that you can maintain the balcony's warm atmosphere. To incorporate some whimsy and romance, you can also add some floor lanterns, and don't forget to add texture through fuzzy blankets and throws.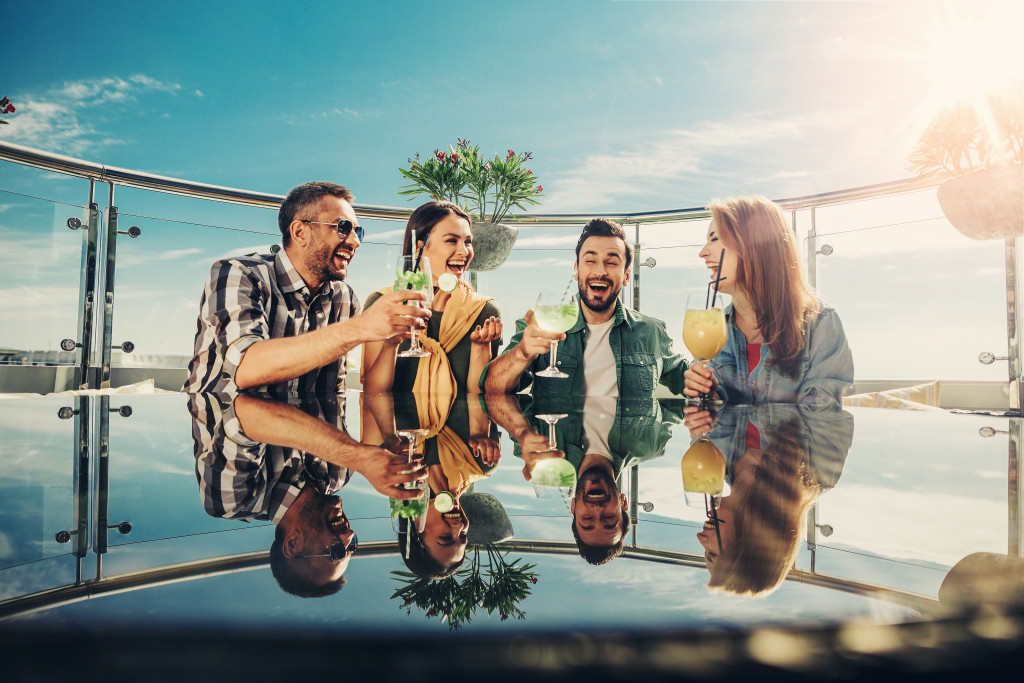 Multi-function area
If your yard is on the bigger side, you can add more than one key feature to your outdoor living space, like concrete diamond pavers that can mark the seating area, and on the other side, planter boxes where you and your family members can do some gardening. Gardening is good for our health, and using planter boxes is even better because they save water, improve the health of the roots, protect our more delicate plants, retains the nutrients of the soil, and it's a great choice for families with busier lifestyles. If you have more space, a cooking or grilling station can also be another way to help you maximize your backyard.
Tuscan courtyard
Who doesn't want to escape to a villa in Italy to forget the stresses of the world? The good news is that you can replicate the look and feel of a luxurious Italian countryside getaway through a series of design choices that you can incorporate into your outdoor living area. If it can complement your home's architecture, consider adding design elements like exposed beams, arches, and stucco surfaces to your deck or patio.
You can also use iron and wood furnishings, as well as a Renaissance-inspired painting above the fireplace. To lean hard into the Tuscan aesthetics, you can also look at symmetrical potted plants that look like Italian cypress.
Mid-century modern
There's a reason why the mid-century aesthetic made waves again in recent years—we can blame Mad Men, but it's really because the mid-century look balances style and functionality with so much ease, and helps homeowners maximize their space. Incorporate this look into your outdoor living space by opting for clean horizontal lines, bold patterns, bright colors, and mixed textures.
Just because the world is open again, it doesn't mean investing in our outdoor living spaces is no longer worth the effort and expenses. Invest in your deck, patio, or balcony—it's good for your health, the relationships within your family, and the value of your home.