It's time to get the guys together for some good old-fashioned fun. But instead of heading to the same old bar or man cave, why not step up your game and throw the ultimate party? You can impress your friends and have a blast with a little planning. Check out these five tips for throwing the ultimate man cave party.
Make a List of What You Need and Stick to it
There's nothing worse than being at a party that's short on supplies. Before inviting people over, list everything you'll need for the party, from food and drinks to games and entertainment. This way, you can ensure you have everything covered and avoid any last-minute scrambling.
It's also wise to know the particular needs of your guests. Consider friends staying over if the party will be held in your house; they may have particular needs like an air mattress or extra pillows. If anyone has sensitive skin, cover that area, too. Yes, men have hygiene needs. For falling hair issues, include conditioner for hair loss in your shopping list.
Don't be afraid to ask about their needs. Your guests will appreciate that you took the time to make sure they're comfortable, making the party much more enjoyable for everyone.
Get Your Space Ready
Once you know what you need for the party, it's time to prepare your space. If you're using your actual man cave, then great! But if not, clear enough space so your guests have plenty of room to move around. Set up any furniture or decorations you want to use, and ensure enough seating for everyone.
Men don't need luxurious surroundings, but a few well-chosen decorations can add to the atmosphere of your party. Consider hanging up some sports memorabilia or setting out some vintage barware. And don't forget about the lighting! String lights or lanterns can give your space a fun and festive vibe.
If your guests have particular favorites like video games or a pool, ensure those areas are ready to go. Again, your goal is to ensure everyone has a great time, so think about what your guests want and need to enjoy themselves.
Plan Your Menu Ahead of Time
No party is complete without food and drinks, so take some time to plan out your menu ahead of time. This doesn't mean you need to spend hours in the kitchen cooking everything from scratch (although feel free to do that if you want). Just come up with a few simple snacks and drinks that will please your guests and fit with the theme of your party.
You may include snacks like chips and dip, pretzels, or nuts. For drinks, have a variety of alcoholic and non-alcoholic options on hand. If you're planning to serve alcohol, have plenty of water and soda. And don't forget the ice!
It's also wise to know your guests' dietary restrictions and allergies since it's not uncommon for people to have them. You don't want anyone feeling left out or sick because they can't eat or drink what you're serving. Again, planning ahead of time will go a long way in ensuring your party is a success.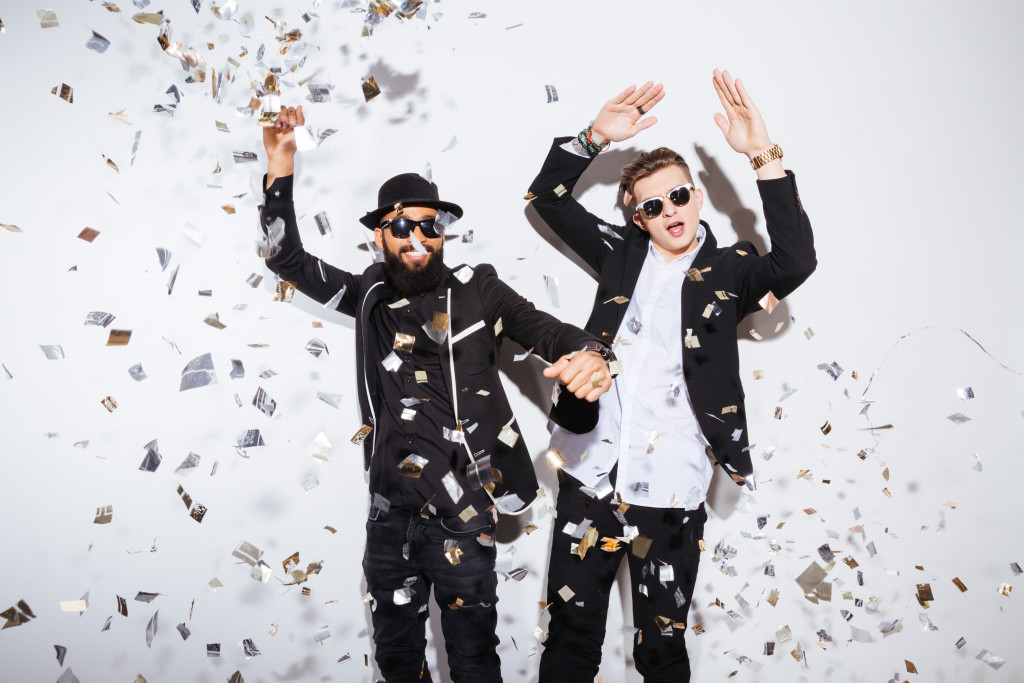 Choose the Right Entertainment
What's a party without some good entertainment? Whether watching the big game or playing some classic video games, make sure you choose something that will appeal to all of your guests. This is your chance to show off your man cave, so pick something that will wow everyone.
If you're holding this in a bowling alley, you might consider hiring a DJ to play some tunes between games. If you're planning on having a movie night, choose a film that everyone will enjoy. And if you're hanging out and playing video games, make sure you have a variety of games on hand, so there's something for everyone.
Some games you can prepare are billiards, air hockey, darts, poker, and cornhole. If you want to take things up a notch, you can set up a makeshift casino with blackjack and roulette tables. Whatever you choose, make sure it's something that everyone will enjoy.
Have Fun!
This is probably the most important tip of all. Remember, this is supposed to be a fun event for you and your friends, so don't stress out about everything being perfect. If everyone is having a good time, consider your party a success!
Always practice responsible drinking and never drink and drive. Make sure to have plenty of non-alcoholic beverages on hand, and make sure everyone has a safe way to get home at the end of the night.
Throwing the perfect man cave party takes a little planning, but it's worth it when you see the smiles on your guests' faces. Keep these tips in mind, and have fun!