If you've recently moved into an older home with a rustic feel, you may feel like it's impossible to give the space a modern makeover. Although rustic interiors have a certain charm, it's also possible to make subtle updates that give your home a more updated feel. There are plenty of ways to revamp your home into something that feels a bit more modern and inviting. Here are some tips for turning your classic home into a modern living space, from furniture selection and color palettes to new fixtures.
1. Paint the Walls
Adding a coat of paint is one of the quickest and most affordable ways to freshen up any room. Try opting for lighter shades, such as whites, beiges, grays, or pastels—any color that feels fresh and airy will do. Painting walls can instantly transform the look and feel of any room without too much investment on your part. You can also grab some stencils and add some texture to the wall with a pattern or design.
The important thing is to experiment until you find the perfect color scheme and design that will give your home a more modern feel. Try to avoid bright colors, as they can sometimes make the room feel dated. But don't be afraid to have fun and choose something that reflects your personality.
2. Replace Fixtures
From doorknobs and light switches to cabinet pulls and bathroom faucets, replacing outdated fixtures can significantly impact any living space. Not only does this help give your home an updated look, but it also brings it up to current safety standards (which is always essential). Plus, it's relatively easy (and usually affordable) to switch out these fixtures yourself! Most hardware stores carry a wide variety of replacement pieces that you can easily install.
Don't forget to update your windows and doors as well. Windows are a great way to add modern flair to any space. Consider black window frames, as they offer a sleek and chic look that's perfect for a modern home. And they can be easily outfitted with stylish shades, curtains, or blinds to create the perfect lighting. And new doors can bring a modern touch to any room, whether you choose something sleek and simple or a bit more classic but with a modern twist.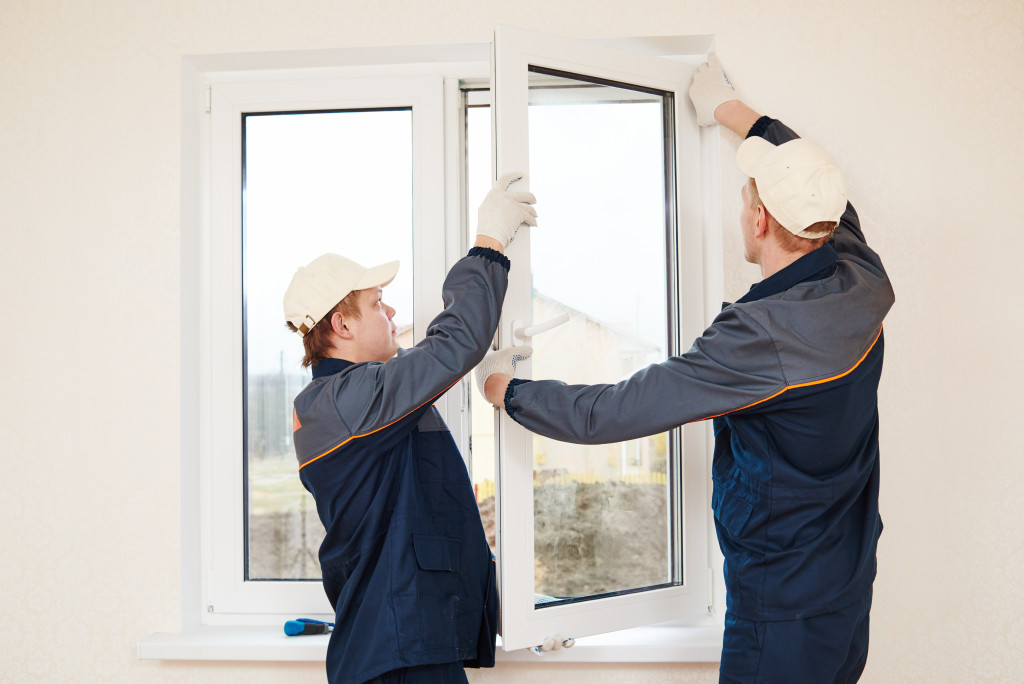 3. Update Your Furniture
If you don't have the budget (or time) to buy new furniture pieces for every room in your house, focus on updating one piece per room. This could be as simple as buying a few throw pillows or blankets in more contemporary colors and patterns or as big as replacing an old couch with something more modern-looking. If you decide to invest in new furniture pieces for your home, consider choosing items with clean lines—nothing too bulky or ornate—to achieve an updated look.
Of course, you also want to opt for durable pieces that will last you for years to come. Look for pieces made out of quality materials like solid wood, metal, or leather. These materials are strong and timeless and can be easily incorporated into any home. You can also search for furniture with sleek, minimalist designs to give your home a more modern vibe
4. Add New Accessories
Your budget may not allow for brand-new furniture pieces, but that doesn't mean you can't freshen up your space. Try adding some modern accessories, like a cool pendant light or an area rug with a unique pattern. You can even find plenty of decorative items that won't break the bank, like wall art or a set of colorful throw pillows. Just be sure to choose items that will blend in with your existing decor and will help create a new, modern look.
A good way to make your home feel more modern is to add plenty of natural elements, such as plants and fresh flowers. These will bring life and texture to any room and can help give it a more modern, airy vibe. Faux plants and flowers are great options, as they're low maintenance and look just as good. Just remember to place them in strategic and aesthetically pleasing locations throughout your home.
With just a few small updates here and there, you can easily revamp your rustic home into something that looks stylishly modern yet still holds onto its vintage charm. Choose a few pieces to update, like fixtures or furniture, and don't forget the details—accessories and plenty of natural elements. With the right modern touches, your home can become a cozy and inviting space that you'll never want to leave.