In the 70s, things were much simpler in terms of home decorating and fashion. That's not to say that everything from that decade was better; it's just that there was more of an emphasis on keeping things simple. Want to bring some 70s into your home decor? We've compiled this guide to decorating your home like you're in the 70s so you can channel your inner vintage love.
The 70s is one of the most iconic decades in history. The decade's fashion, music, and architecture have endured and will always be remembered as some of the best examples in their respective categories.
If you're looking to decorate your home like it's still the 1970s, or if you just want to see what that period was all about, follow these steps to create a retro-inspired interior design scheme that will look great in your home and tie back to the decade that started it all.
Elements of Style
Just like your clothes, you can express your personality through furniture and decor. The key is to introduce elements of style that blend seamlessly with your sense of aesthetics. 1970s style is full of bright colors, retro patterns, bold graphics, and loud textures. So if you want to make a splash, go for it. Just don't mix every element from a decade, or else you'll end up with an awkward mishmash that just doesn't feel right. Choose one or two elements at most and include them as accents throughout your home to make them stand out.
For example, consider throwing a paisley-print pillowcase on top of your comforter or purchasing throw pillows emblazoned with nostalgic motifs. And when you select decors such as framed prints and decorative accent pieces, look for bold paintings featuring nature scenes bursting with hues (blue skies are always appropriate) and heartwarming images that warm up even the coldest rooms.
If you want something more muted, the 70s also had a hippie vibe—more neutral colors. Think of the Woodstock Festival and the Beatles. They weren't always that bright in color. You can take inspiration and design your home in a more hippie way, but make sure it still works for your needs.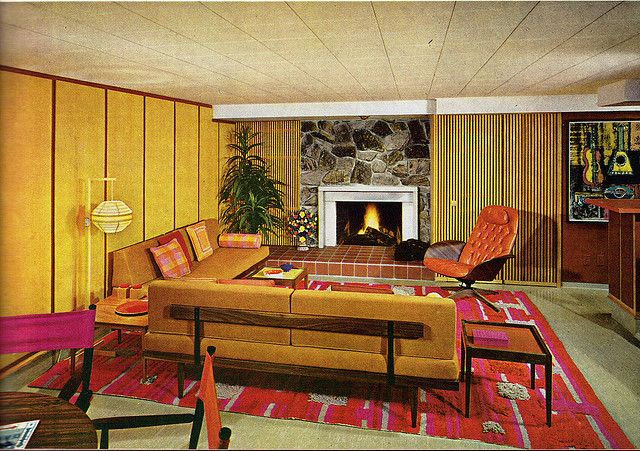 Transform Your Sleeping Area
The 1970s were all about that shag. Why not bring it into your bedroom? Shag rugs, bedspreads, sheets—you name it. Your room won't have a roof (or ceiling) if you go wild with it—bonus points for getting a large mirror above your bed for some serious trippy vision at night. If classic 70s is more your thing, then simply add lace and hardwood floors or even a shag lampshade for that extra touch of flair.
You can also include sheets that come in bright colors and patterned designs. Lace is also a great way to spice up your living space. It's a cheap way to make it look good, and you should be able to find them easily at most discount or fashion stores. If you don't want something so girly, then there are plenty of bolder, spunkier patterns out there as well that will still complement your room.
Outdoor Spaces for Summer Entertaining
Whether you're an avid entertainer or simply want to boost your curb appeal, taking a few simple steps can transform your outdoor spaces into a more welcoming environment with a retro 70s vibe. Enliven your patio and lawn by picking up some colorful outdoor pillows and adding potted plants like large ferns, shady trees, and climbing vines.
Take note of your landscape, too. Landscaping is so much more than simply flowers or grass these days; many homeowners have taken to adding elements like fire pits, multi-level patios, and infinity pools. And the good thing is that there are landscaping services that can make such requests.
Change the Walls
Wood paneling can give any room a warm, cozy feel. If you want to bring a little of that wood-paneled vibe into your home, add texture and color by painting a wall with gold or metallic paint. Make sure to use non-toxic paint and seal it with two coats of polyurethane. To give your walls a high-gloss finish, as you'd find in a '70s disco, try spraying on some Krylon Frosted Pearl Spray Paint.
You can also consider adding wallpapers with geometric patterns like triangle motifs, polka dots, or large-scale prints that feature bold colors and large geometric shapes. Another great way to bring '70s style into your home is by using decals and stickers that imitate painting. If you want something minimal, you can paint your entire house in a 70s color palette, something more hippie-like dark green and beige, or orange, cream, red, and yellow.
Add Fitting Lighting
In addition to your main overhead lights, try out some funky and fun pendant lamps. They can be used as chandeliers or even as bedside reading lamps. Pendant lighting is perfect for adding that retro charm to any room of your home. Best of all, you can purchase one for less than twenty dollars at most major retailers. Brighten up your living room with a lava lamp-style light and add a splash of color to your bedroom with an old-school disco ball fixture.
The style and colors of your home are not just aesthetic choices; they can make a difference to how you feel when you're inside. Give your space a retro makeover and bask in an instant mood boost.