Life's constant companion is change. It's an inevitable factor in all facets of life – age, preferences, growth, and mobility. For seniors, losing the ability to do simple tasks such as walking to the park, driving themselves for their regular check-up, and even taking showers can be upsetting. What used to be a routine has now become an unfamiliar territory.
While some degree of mobility loss is inevitable as people get older, many are unprepared or unequipped for this life event. Therefore, it's imperative to find ways to address it and adopt preventative steps to improve physical and emotional health.
Accident-proof the house
Falls are a prevalent and dangerous concern among the aged, sometimes even resulting in death or disability. And restricted movement can exacerbate the risk. Therefore, selecting the appropriate materials, equipment, and renovation is critical for senior homeowners who wish to age gracefully and peacefully in their houses.
For example, consider placing handrails in accident-prone areas around the house, such as the stairwell, bathrooms, and corridors. Moreover, clear any objects lying around to make sure no passage is obstructed. Put away toys, electrical wires, unnecessary things and furniture, and any clutter around the house. A clutter-free home enables elders to walk about independently, preserving what's left of their mobility.
You can also minimize accidents around the home by adding rubberized surfaces, carpets, linoleum, and other types of residential flooring fit for aging adults. Ensure to install them, especially in slip-prone areas such as the bathroom and the kitchen. Moreover, avoid putting loose floor coverings on wooden or tile surfaces to prevent accidents. Finally, maintain well-lit spaces to improve visibility, especially at night.
Encourage them to pursue their hobbies.
Elderlies should not be prevented from celebrating themselves regardless of their mobility difficulties. This includes doing the things they enjoy and love. There are several non-mobility-required pastimes and hobbies that you can encourage them to do. For instance, if they love reading, bring their favorite author's work or new novels they would want to sink their teeth in. You can also let them express themselves by making beautiful art and woodcraft. Just make sure to assist them in handling specific tools.
Moreover, changes in mobility might impact someone's emotional well-being. For instance, if your aging father appears to be significantly depressed, assist him in finding a positive social and emotional outlet. Research shows that meditation helps seniors deal with anxiety and stress, while others enjoy stitching and knitting to calm them down.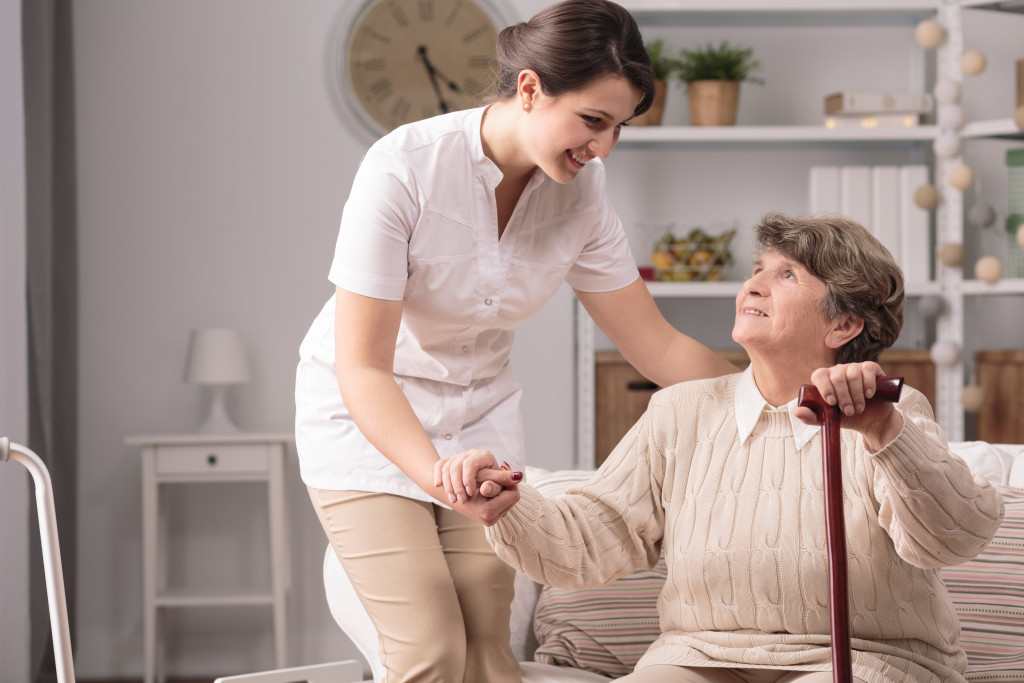 Healthier options are the best option.
Immobility among the elderly is caused by various factors, including diabetes, obesity, and cardiovascular diseases. Therefore, consuming a nutritious diet might help ease some of them. For example, greens and fiber-rich meals help strengthen their joints and reduce the likelihood of muscular weakness. You may also inquire with your family doctor for recommendations on a diet you can serve and the ones you should avoid as well as nutritious choices to enhance bones and improve general health.
Introduce them to support groups
Having the right people around to share stories with and understand the struggles, difficulties, and good things that come with living with mobility restrictions may help boost your aging mother's mood. It can also help reduce any risk of depression. They may also find helpful, relaxing techniques and positive coping mechanisms by surrounding themselves with people they can identify with.
Talk to them about the idea of belonging to a support group and ask their opinion about it. Avoid insisting on what you want and respect their decision no matter what the outcome is.
Master the skill of proper lifting techniques
Eventually, you would have to assist your aging family member in moving from one location to the next. For example, they may need you to help them transfer from their wheelchair to the car seat. Although it's essential to encourage them to be independent and allow them to accomplish their daily tasks themselves, it would also help if you learn proper ways to lift them if an emergency happens.
Moreover, it is vital to be as supportive as possible, especially if they try to do something independently. What appears to be a basic activity for you could serve as a great accomplishment for someone who has restricted mobility.
Be the support system they need. Seniors may feel lonely or imprisoned, particularly those who live away from their families while suffering from immobility. It can very well exacerbate feelings of becoming old and powerless. These factors all lead to health conditions such as anxiety, depression, and chronic pain. Therefore, the inability to move freely should never be a burden to anyone, regardless of whether you suffer from such or the caregiver for one. Find the equilibrium between being self-sufficient and giving them all the help they deserve.