A man cave is where a man can go to be alone, relax, and enjoy some peace. It's a place where he can escape the hustle and bustle of everyday life, hang out with friends, watch sports, or just get away from it all. If you're thinking about creating your man cave, here are six tips to help you get started.
1. Find the Right Location
The first step to creating your man cave is finding the perfect location. It should be where you feel comfortable and can relax without being disturbed. If you have an extra room in your house, that's ideal. But if not, any space that can be dedicated to your man cave will do.
You can also convert your basement into a man cave. This can be a great option because it's usually isolated from the rest of the house, so you won't have to worry about disturbing anyone. Hire a reliable basement contractor that can help you turn your basement into the ultimate man cave.
2. Make It Comfortable
You want your man cave to be a place where you can relax, so comfort is key. Fill your space with comfortable furniture that you can sink into after a long day. Add plenty of pillows and blankets so you can stay cozy, and don't forget to include a TV or entertainment center so you can watch your favorite shows.
You can also add personal touches to make your man cave even more comfortable. Hang up photos of your family and friends, or add some memorabilia from your favorite hobbies. Not only will these make your man cave more comfortable, but they'll also make it more personal to you.
3. Stock It With Essentials
What good is a man cave if it doesn't have all the essentials? Make sure your space is stocked with everything you need to relax, including snacks and drinks. If you're a fan of beer, keep a fridge stocked with your favorite brews.
With the right essentials on hand, you'll be able to kick back and relax in your man cave without having to leave for anything. You can also ask your friends to bring over their favorite snacks and drinks when they come over, so everyone can enjoy the man cave experience.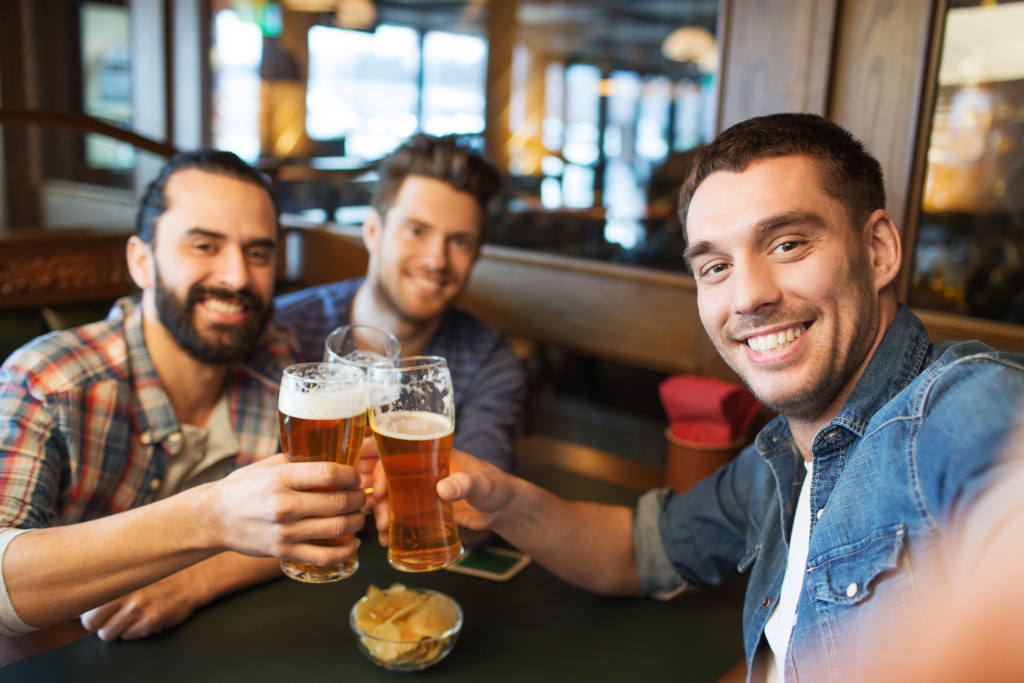 4. Add Some Style
Without some style, your man cave might look like just another room in your house. But with a few personal touches, you can make it into a stylish retreat that's all your own. Start by choosing a color scheme that you like. Then, add some wall art or posters that reflect your interests. You can also add some greenery to your man cave to make it feel more like a retreat.
Consider adding a bar if you want to take your man cave to the next level. This will give you a place to mix drinks and hang out with friends. You can also install a pool table or foosball table for some entertainment.
5. Make It Functional
Your man cave should be more than just a place to relax—it should be a functional space that meets all your needs. If you're a handyman, consider adding a workbench where you can tinker with your projects. You can also add a fridge and microwave so you can store and prepare food.
And if you're a sports fan, make sure your man cave is set up for game days. Hang a TV on the wall and add some comfortable seating so you can watch in style. You can also keep a stash of snacks and drinks on hand, so you don't have to miss a minute of the action.
6. Let There Be Light
Don't forget to add some lighting to your man cave. This will help you set the mood and create the perfect environment for relaxation. You can add some floor lamps to provide general lighting, or you can add string lights or lanterns for a more ambiance.
You can also add a fireplace to your man cave for some extra warmth and light. This is a great option if you want to create a cozy space. Just make sure you have proper ventilation, so you don't fill your man cave awith smoke.
With these six tips, you'll be well on your way to creating the ultimate man cave. Just remember to make it your own and stock it with everything you need to relax and enjoy your time. So what are you waiting for? Start planning your man cave today.