One of the many downsides of the pandemic is that the stress it has been causing us can manifest in our skin. To top it off, it's not completely safe to go out and have these problems fixed by your dermatologist. The good news is that you can learn to take good care of your skin while isolating. Here are some tips on quarantine skincare based on your skin type.
Dry to normal skin
Apart from hormonal conditions and genetics, dry skin may also be a symptom of medical conditions such as low thyroid or hypothyroidism. If you've been indulging in quarantine cocktails more frequently than you should be, that could also be the culprit. Alcohol dehydrates your skin and can add years to your face. This means that balancing your happy hour beverages with a few glasses of water isn't just for avoiding hangovers but for caring for your skin, too.
Dry skin also requires extra care during the winter, when it feels like any amount of moisturizer isn't enough for your skin. The most foolproof way to keep your skin hydrated during the cold season is to pamper it with facial oils. Oleic facial oils are best for this skin type as they're thicker than linoleic facial oils, which are better for oily-skinned individuals. Oleic oils include sunflower, argan, and marula oil.
Oily and/or acne-prone skin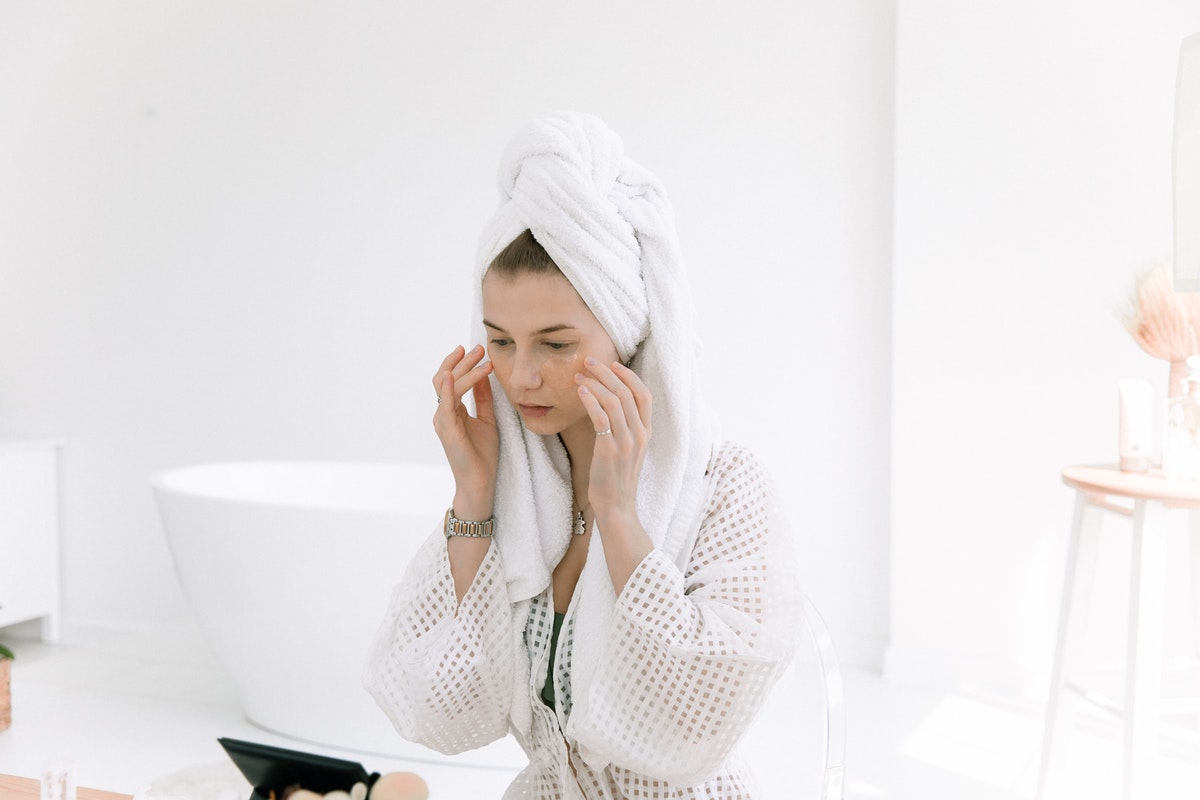 Caring for this particular skin type can be tricky, as not everyone will respond to acne treatments the same way. Some people with oily skin respond well to strong treatments such as benzoyl peroxide and salicylic acid. Others respond better to gentler ingredients such as niacinamide. At the risk of sounding like a broken record, know what will work best for you – and this advice goes for all skin types. Try different things, and patch test them before using them on your entire face.
Oily and acne-prone skin can be more vulnerable to flaring up due to certain dietary habits. Dairy and added sugar consumption can make breakouts more frequent. Sugar isn't bad in itself, but refined excess amounts of refined sugar can accelerate skin aging and causes acne. The good news is that naturally occurring sugars, such as those found in fruits and dairy products, are fine. Excessive sugar consumption is also linked to obesity, diabetes, and heart diseases.
But all this doesn't mean that you should cut out sugar completely. Like most things in life, the key to keeping your sugar consumption from being detrimental is moderation. The American Heart Association recommends daily intakes of no more than 24 grams (6 teaspoons) for women and no more than 36 grams (9 teaspoons) for men.
Aging skin
If you've ever thought about what it might be like to get a workout for your face, FaceGym is an innovation in skincare that gets your face sweating and glowing. It might just be the workout of your dreams because it's not you who has to put in hard work. The workout is administered by a facialist referred to as a "personal trainer." He or she gives your face massages and administers non-invasive facial treatments throughout the course of your session.
At the moment, FaceGym has locations limited to only London, L.A., and New York City, but you can get a similar facial workout by yourself by practicing Face Yoga. All it takes is a few minutes every day. One exercise you can do is for smoothing the forehead. To relax your forehead's skin and muscles and prevent wrinkles from forming in the area, massage it by making fists with your hands. Starting from the center of your forehead, press your knuckles onto your forehead and slide them outwards to your temples.
For all skin types
No matter your skin type, you should have something in your skincare routine that will aid lymphatic drainage. This helps flush out toxins from your face. There are many different tools to help you with this. One of the most recent trends is Glycelene's ice globes, an Instagram-worthy beauty tool for keeping in your fridge.
You'll notice that lymphatic drainage tools often instruct you to keep them in the fridge. Cold tools have been used as a beauty hack for a long time. One of the age-old red carpet hacks is to rub an ice cube over your face before applying makeup. This tightens pores and ensures a smooth canvas for makeup. Cryotherapy – also known as cold therapy – is also a popular recovery technique in the fitness world. It's said to aid in the production of collagen, helping skin to stay plump and supple.
In recent years, skincare companies have been creating cold tools that are also suitable for lymphatic drainage. These tools include jade rollers and gua shas.
Pandemic-related stress on your skin doesn't have to be fixed by your dermatologist. There are techniques and habits you can learn to do while you're isolating.