They say Elvis Presley still lives in Vegas and if you're lucky you can make him your wedding singer. Of course, that's not true. But plenty of Elvis impersonators are surely available in the gambling capital of America. What's true, however, is you can get married pretty quickly in Vegas. As marriage licenses can be issues speedily, you can get married on the day you arrive at Nevada's largest city.
Yes, unlike other places in America, Las Vegas, basically has no waiting period to issue marriage licenses. If it's your dream wedding destination, you certainly can have your minimony (10 people or less) or micro wedding (50 or less) in Sin City.
Hold your horses though. With the virus still in play, traveling hundreds of miles from your hometown to Las Vegas can be daunting. If you want to pursue your wedding plans and get things done in a jiffy, you will have to widen your options. Your solution: virtual wedding.
It's possible you'll raise your eyebrow or pump your fist up in the air hearing about the possibility of a virtual ceremony. But before you start to complain, know that if you want to snatch that bride at the soonest possible time, then virtual is the fastest way you can get it done — and legally too.
New York, California, Utah are leading the way, recognizing virtual weddings as legal. So much, Americans are pushing the envelope and getting married online with partners from different countries.
Worry not, however, if all these sounds surreal. Below is a guide to help you make your dream wedding happen online — sans the fear of botching it.
Make the Hard Decision
Getting married is one of the biggest decisions in life. When you tie the knot, it comes with not only all the fun but also the responsibilities. So, before you set things in motion, make a decision that you're going to make it through.
Secondly, virtual weddings are not for everyone. Make sure you and your partner are 100% into it. In light of all the things happening these days, online ceremonies offer the convenience no other wedding option can.
But it's not without drawbacks. Traditionalists may view it as a travesty of the ceremony. Still, know virtual weddings may be unconventional, but they're as legal and binding as church weddings.
If you can't wait to get married and live together as an official couple in the eyes of the law, then a Zoom wedding should be spot on.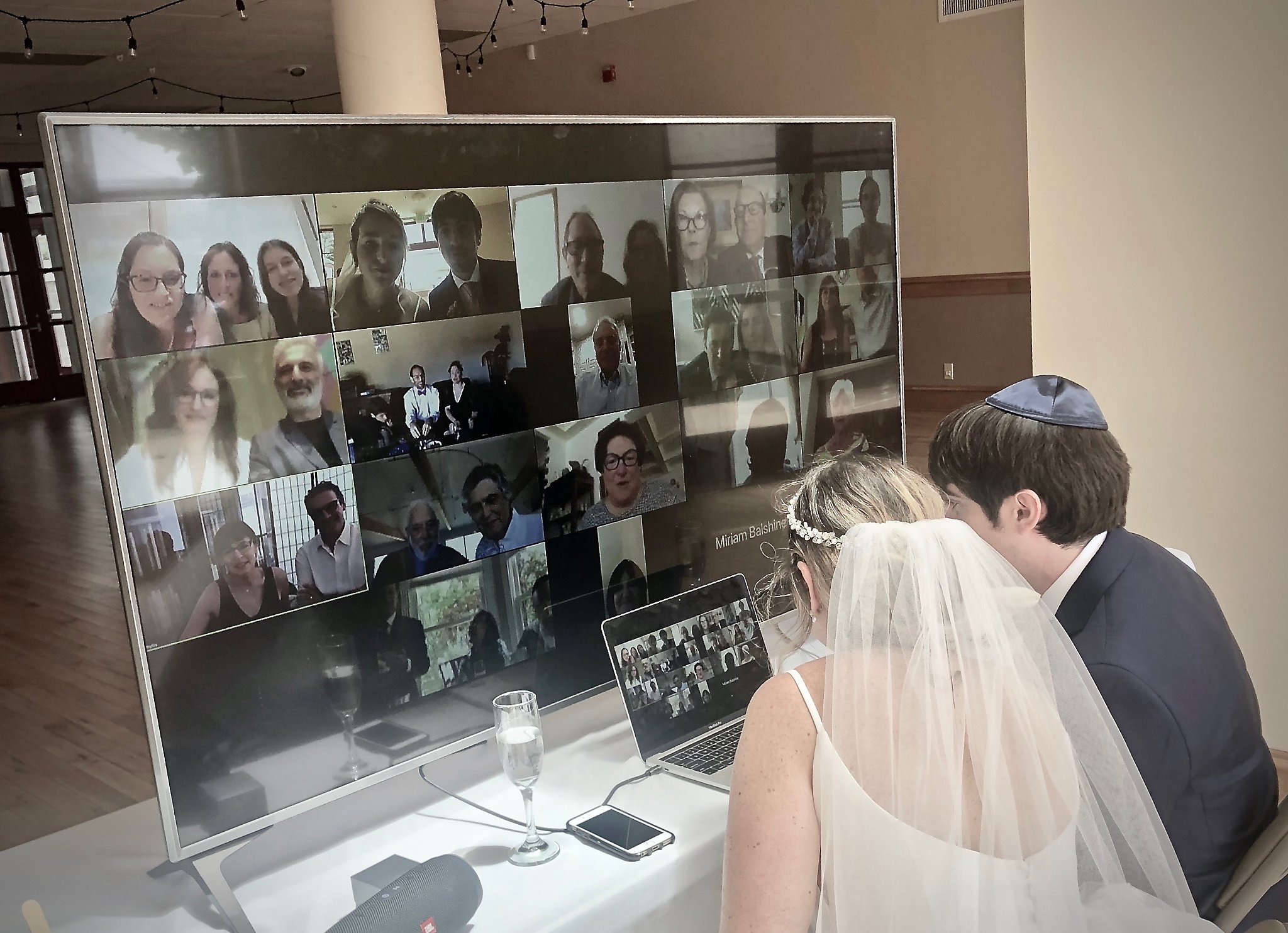 Know the Procedure
Take note that not every state in America offers virtual ceremonies. What's more, know that not every state that offers one has the same protocols to make it happen. It's important, therefore, that you be as conscientious as possible to follow the requirements of the letter.
For instance, it's OK for people in New York to get married online even when the officiant is just virtual in another location. In Canada, the officiant and the couple-to-be have to be in the same room to give the ceremony justice.
As such, that brings to light two things:
To be married, first, you need to get a marriage license. You need to process it. Each state has different requirements and time frames in getting one. Las Vegas is more of an exception rather than a rule. The good news is many courthouses nationwide are offering online processing of marriage licenses. Here's a quick look at one.
Know that marriage licenses have a shelf life, depending on the state. So make sure you start the ball rolling before they expire. As for the officiant, you'll have to book one. Do your due diligence. Make some calls and get in touch with a duly recognized officiant. Also, take note you may need a witness to the ceremony to make it official. Make sure you book someone ahead, a dear friend or a sister, to stand as one.
Keeping It Together
Of course, even when you'll have your "I dos" online, you still need to look awesome for your beautiful bride and for posterity's sake. Prep your attire ahead. If you're short of time, a trusted laundromat should work wonders for you. A reliable one keeps your suit clean and dry in no time.
As for the celebration, you need to keep your eye on your state protocols as to how many can attend your wedding. You may have to prioritize your friends over the others if the number is low. Plus, you'll have to ensure safety COVID-19 protocols are observed when celebrating. The last thing you need is to be branded a super-spreader event.
Well, you can also have an online celebration for everyone's safety. You can always stream the whole event on FB Live. And that brings one of the essential things people forget in the rush: the technical side of it.
Make sure you test your internet connection, web cameras, and choice video conferencing app before your wedding day. You don't want to be checking wires and going through last-minute repairs on the day you tie the knot.
Well, don't fret. If you truly are in love, everything should fall just where you want things to be. The most important thing is you have each other. And that's all that matters most.