One of the things homeowners continually do is to improve their homes to increase their value. One of the rooms that add the most value to a house is the kitchen. The kitchen is where warmth is truly felt in a home. It's where people gather and bond too. Hopefully, with these value-adding tips, you'll be able to have insight as to how you can better improve your kitchen and its value!
Stay Neutral
Everyone loves a gorgeous countertop. But when deciding which color to go for, be sure to choose neutral colors. Not only does a neutral color scheme look updated and trendy, but they also make a clean kitchen look even cleaner! A spotless, sparkly, and clean kitchen is always attractive to both potential buyers and your guests.
Everyone's been loving the minimalist look, and choosing the right colors that'll fit this style is the first step to achieving it. Another great advantage to a neutral color palette is that it's most likely to suit the preferred style of the majority.
Update Hardware and Fixtures
Minimalist and sleek drawer and cabinet handles are the way to go! These serve both a functional and an aesthetic purpose, hitting two birds with one stone. Although it's fine sticking with the ones that came with the house, these dainty details are eye-catching and hard to miss! Despite their size, they can help elevate the kitchen into a new and modern look. When it comes to light itself, opt for LED lights since they are more cost-effective and friendly to the environment.
While you're at it, update the faucet too. These days, more innovative and high-tech designs are added to the market, making the experience of using them feel a little more luxurious and convenient!
Improve Lighting and Light Fixtures Too
Lights are the biggest contributors to a room's ambient. Make your kitchen a well-lit, ambient, and relaxing space with the right lights! Update lighting and fixtures to optimize the space and experience. These days, hanging lights, especially over the island counter, are a hallmark design in modern kitchens. They add interest and character to your kitchen–an eye-catching feature!
Add More Storage
Another attractive feature in any home kitchen (or any room for that matter) is storage. Other than the pantry, storage must be available for food, condiments, seasoning, and ingredients used and accessed daily. In that case, a storage space that's accessible would be ideal. A cabinet or open shelf is an example of this.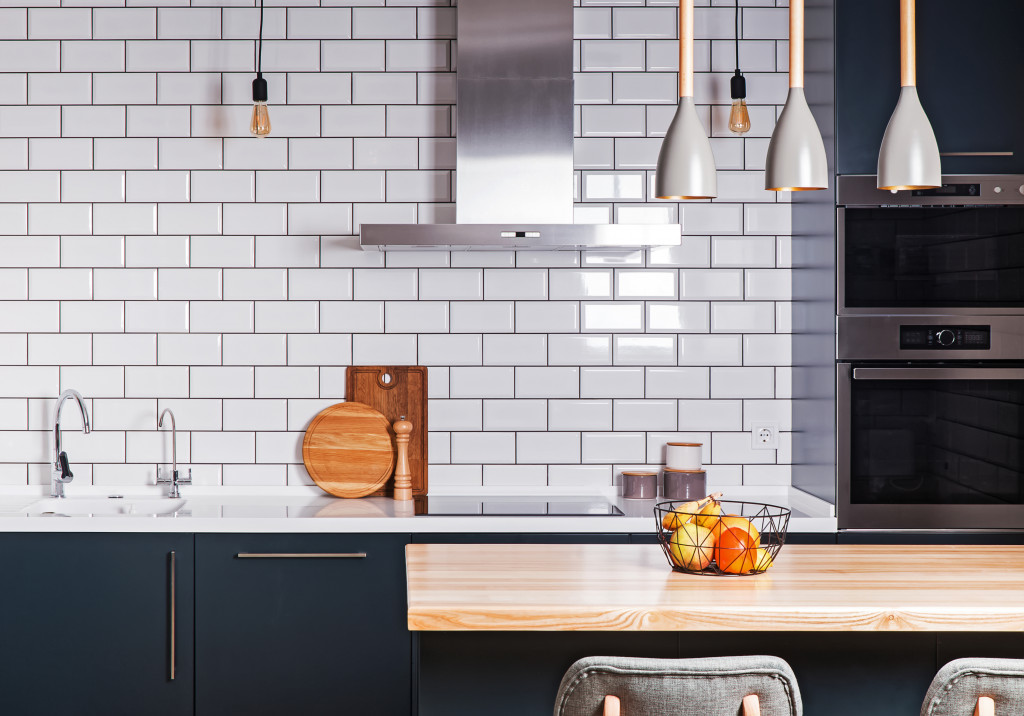 Get Creative with Your Back Splash
A backsplash serves the practical purpose of protecting the wall behind the stove from oil and food splatters from cooking. It also prevents discoloration on the wall while making it easier to clean. A popular choice for this vertical surface is tile, making it an opportunity for more decorative elements.
Not big on the idea of a wall in front of you while you cook? Consider installing a window directly above or moving your cooking station in front of the windows. A backsplash window is a great choice for small kitchens too! It gives the illusion of more space with the natural light it allows inside and without sacrificing any more space than it should. It's often seen in modern-style kitchens today.
Add an Island
If there's one thing many homeowners are suckers for, it's space. Adding an island in the middle of your kitchen gives it the illusion of that. It also affords anyone that's cooking the mobility and seamless workflow when it comes to cooking. An island makes even a small kitchen become and appear more spacious too.
Don't Forget the Floors!
Most kitchens have tiles as flooring. If yours does, too, give the grout a deep clean. Having clean, white grout lines makes the floor relatively newer and cleaner. But if you want to redo the floor, consider going with wood. Although this is not often the first choice for kitchen floors, wood has an undeniable appeal no one can resist.
Before you settle on flooring, though, be sure to check out other options that might suit your budget and the style you're going for.
The Bottom Line
Be it a big or small kitchen project, as long as it contributes to the functionality of a kitchen, it's worth it. It's not about the size or space available in the kitchen; it's how you can optimize the space while adding more value to it. That's the real challenge. Although this might be the case, it's not an entirely impossible one to overcome. Knowing what you want and improving the space is the first step to conquering it.