Every man dreams of having his own space to relax, watch sports, and entertain friends. But turning that dream into reality can be challenging, especially if you're living in a small apartment or rental home.
Luckily, there are plenty of ways to turn your humble abode into the ultimate man cave — you need a little imagination and some elbow grease. Here are a few tips to get you started:
Think about your space constraints.
If you're living with limited space, you may feel like it's impossible to turn it into a true man cave. But that doesn't have to be the case. You can make the most out of even the tiniest living quarters with ingenuity and forethought.
One strategy is to focus on multipurpose furniture. For example, you could choose a sectional sofa that doubles as extra seating when you have guests or opt for a table with built-in storage to reduce clutter. You can also look into space-saving gadgets and appliances, such as compact refrigerators and under-the-bed organizers.
Ultimately, the key is to think creatively and find ways to maximize every square inch of your home. You can enjoy a cozy man cave even in a small space with the right planning and execution.
Prepare the necessary structural elements.
Before you can create your man cave, you'll need to prepare the necessary structural elements. That means adding electrical outlets, installing restroom facilities, and heating and ventilation systems. These are primary considerations when planning a home improvement project, so consider them early on.
You may also consider adding soundproofing and insulation materials if your man cave is in the basement or another quiet space. And don't forget about lighting — you'll want bright, cheerful lights for daytime activities and dimmer lighting for evening use.
Either way, consult with a professional before changing your home's electrical or plumbing systems. Once you have the green light, you can start working on the fun stuff.
Focus on your theme.
One of the most critical elements of a man cave is the decor — after all, it's a place for you to express your style. Whether you prefer sleek, modern accents or rustic woodwork, what matters is that you focus on choosing pieces that reflect your interests and hobbies.
The best part about having your man cave is being able to personalize it exactly the way you want. However, sticking to a theme will help you create a cohesive look that ties your space together and makes it feel like your own. When you walk into your man cave, you should feel like you're in a completely different world — and the right decor can make all the difference.
So, be bold and get creative with your design choices. A bit of effort can go a long way in helping you create the ultimate man cave.
Make it exclusive.
Your man cave should be a place where you can kick back and relax, so privacy is vital. Invest in a few stylish curtains or trendy window roller blinds to cover any entrances, and consider putting up a soundproofing foam to keep the noise down.
Additionally, you may consider installing security cameras to monitor your space from afar. Doing so will help ensure that your area remains your private retreat, where you don't have to worry about prying eyes or uninvited guests.
Nobody wants to be interrupted while relaxing in their man cave, so taking these steps to ensure privacy is essential.
Ensure comfort.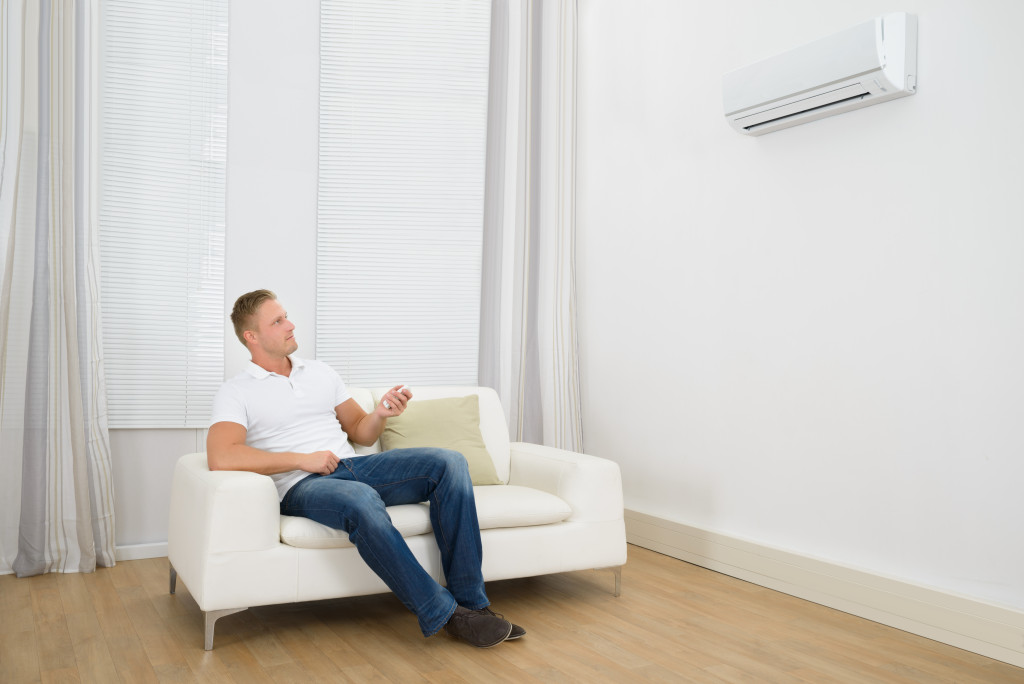 Of course, your man cave won't be much of a retreat if it isn't comfortable. Make sure to focus on creating an aesthetically pleasing and functional space. For example, you might want to install a mini-fridge for snacks and drinks or set up your gaming system.
Depending on your hobbies, you might also want to consider adding a pool table, darts board, or other games. And if you're an avid sports fan, you can create the ultimate viewing experience by investing in a high-quality television and surround sound system.
No matter your interests, the goal is to make sure your man cave is a place where you can truly relax and unwind. By focusing on comfort, you can create a space that feels like your own personal oasis.
Creating a man cave doesn't have to be complicated — with a bit of planning and effort, you can turn any space into your perfect retreat. You'll need to focus on the basics like space and structural details, but don't forget about the ones that will make your area truly unique. By focusing on your theme, making it exclusive, and ensuring comfort, you can create a man cave that's perfect for you. So what are you waiting for? Start planning your dream man cave today.