Having guests over can be a lot of fun, but it comes with its own challenges. You want to make sure your guests are comfortable, entertained, and feel welcome in your home. Visitors that have a good time will likely come back, and it's important to make sure they have the best experience possible. Depending on how many guests you're expecting, there are a few things you can do to make sure everyone has a great time.
Here are some tips on how to do just that!
1. Create an Inviting Environment
The first step is to create an inviting atmosphere for your guests. Adding cozy throw pillows or blankets to the seating areas makes them look extra inviting. A light scent in the air—either from scented candles or essential oils—can also help create a homey feel. Even small touches like fresh flowers or greenery can make all the difference.
But you should ensure your home is also in the best condition. Make sure everything is clean and tidy before your guests arrive. You especially what your bathroom to be spotless for them. If your bathroom is in disrepair, consider hiring professional bathroom renovation services. They can help you create a bathroom ideal for entertaining and make sure it's in the best shape possible.
2. Choose Fun Activities
Depending on the type of guests you have coming over, there are lots of activities that can be enjoyed by everyone. If you have kids joining you, having some board games handy is always a good idea. Or if you're entertaining adults only, why not break out a deck of cards? Either way, planning something fun will help keep things lively and engaging!
Make sure that the entertainment you provide fits the mood and age of your guests. If it's a more formal gathering, then some light conversation will do just fine. Or, if you're hosting a party, have some upbeat music playing in the background and provide finger foods for everyone to enjoy. Always make sure there's something to do, even if it doesn't involve being overly active.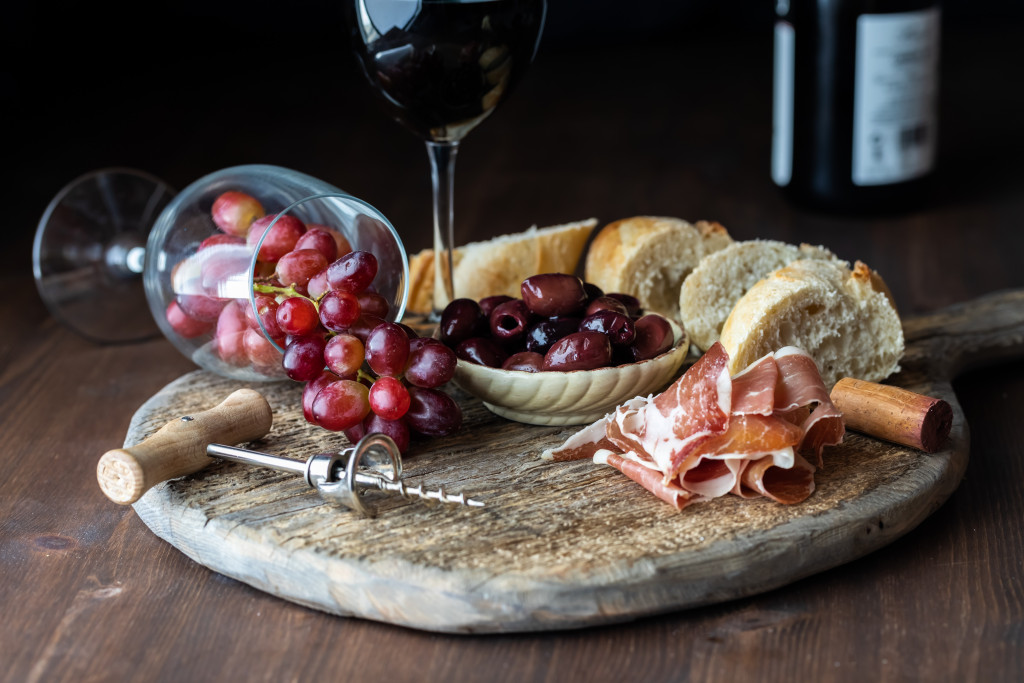 3. Plan Delicious Snacks & Drinks
No gathering is complete without food and drinks! Try setting up a charcuterie board with assorted cheeses, crackers, meats, and other goodies for snacks. For drinks, consider making a signature cocktail for your guests or serving up some wine and beer selections. Whatever you decide to serve up, ensure there's plenty of food and drink to go around—your guests will appreciate it.
You should also think about what your guests might be allergic to or have dietary restrictions. If you're aware of any allergies, plan meals accordingly and make sure there's something everyone can enjoy. You can also ask your guests ahead of time if there's anything in particular they would like to have. This will help you plan the menu accordingly.
4. Make Your Guests Feel Comfortable
Ultimately, you aim to ensure your guests feel comfortable and welcome in your home. Ensure the temperature inside is kept at a comfortable level and that everyone has access to plenty of water and other refreshments. If someone feels hot or cold, offer a sweater or blanket they can use.
Also, make sure to keep the conversation going throughout the gathering. Ask everyone questions and keep an eye out for anyone who might feel left out. Give everyone your full attention and make sure no one feels like they're being ignored. A good host should always make sure their guests feel important to the conversation.
5. Offer a Warm Goodbye
Your guests' experience doesn't end when they leave your home. Before they head out, thank them for coming and offer your farewell wishes. Letting them know they're always welcome to return makes them feel appreciated and valued. Most importantly, thank them for choosing to spend their time with you.
Some people also send a text or email after the gathering, thanking their guests for coming and expressing how much they enjoyed their company. This is a nice gesture that will help ensure your guests that you truly appreciate them. You don't have to do anything extravagant—just a simple thank you note will make all the difference.
Making your guests feel welcome and entertained in your home doesn't have to be complicated. You can create the perfect environment for them to enjoy their visit with just a few simple steps. From creating an inviting atmosphere to planning delicious snacks & drinks, these tips should help ensure that your gathering goes off without a hitch! So what are you waiting for? Start planning today!