By definition, a bachelor's pad is a home for a bachelor. The pad should represent the personality of the man that lives in it. Meaning, the pad needs to showcase his passion and hobbies through the furniture, wall paint, and overall interior.
For most people, the place you live in should be able to tell your story. And this could be a pretty challenging task for a man with a busy schedule. So if you are trying to design a pad, here are some tips that you might find helpful.
Accent Walls
Walls are usually the first thing that guests see in a home. If you want your home to say "A man lives here," you may include exposed walls in the design. Details like brick walls, concrete, or wood are typically the best walls for bachelor's pads. These walls give the home a rustic and masculine feeling, the primary sense of having a pad.
For bedrooms, minimalist with subtle wall paints is ideal. White and gray walls add energy to the room but do not compromise the idea of keeping it manly. Overall, each division of your pad should have a story to tell. You can use your personality, interests, hobbies, or love for music as references in designing your walls.
Medium Lighting
Most young men don't like too much lighting inside their rooms. But lighting plays a vital role in keeping the interior pleasant and setting the mood. Opt for minimalist chandeliers, lanterns, weathered pendant fixtures, or anything vintage to match your industrial-style walls.
However, you need to ensure that your lighting is installed correctly, especially the hanging lights. If you suspect any damage or incorrect placing of lights, call an electrical repair company right away. The last thing you'll need is for your bachelor's pad to end up in a disaster.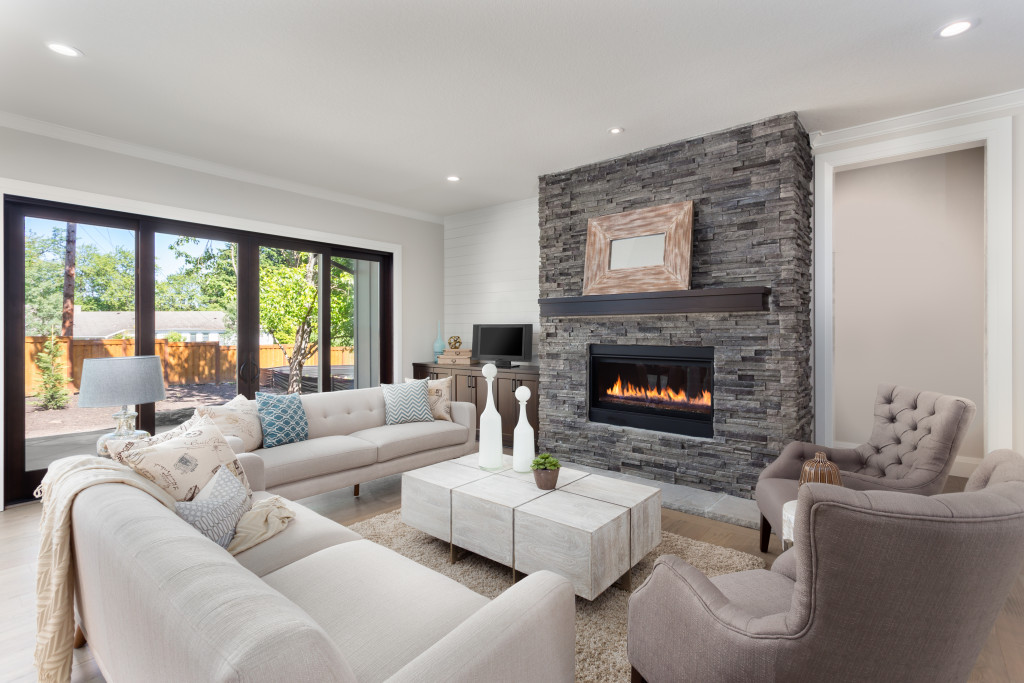 Manly Flooring
Like walls, your floor speaks a lot about you. Make sure that your floor matches your walls to achieve the minimalist yet masculine vibe you want to attain. Typically, marble, hardwood floors, and rubber flooring are top favorites. Apart from adding an exciting tone to your space, these types of floors will make your pad inviting and stunning at the same time.
In choosing an ideal flooring, you have to consider a few factors. You need to think about maintenance, cleaning, moisture, safety, and life span. You have to choose what fits your lifestyle.
Furniture
Your choice of furniture will say a lot about your personality. Sofa, tables, and chairs play a crucial role in setting the mood of the entire bachelor's pad. Choosing an item of furniture is all about matching the materials to the unfinished elements of your home.
A vintage bed frame, leather sofa, iron bookshelf, and wood tables are usually seen in a man cave. Remember that in picking your furniture items, you have to perfectly mix the architectural design of your pad to put things in order. Here are some essential items you need to have:
Cabinet
Sofa or couch
Dining table and chairs
Wooden decors
Coffee table
Bed frame
Bedside table
Lamp
Work desk
Metal bar stools
Mini-Bar
A bachelor's pad will never be complete without a minibar. You will have different guests all the time, and you need to have some adult beverages to offer. Depending on the available space, you can choose between buying a built-in minibar or a custom-made one. Don't forget to display the drinks once your bar is all set.
Decorations
Home decors can also drastically transform your pad. They don't always have to be lavish. Sometimes, wall arts and abstract paintings may do the trick. You can also display your college baseball set along with your personal items.
Match these decors with aesthetic pillows, curtains, and rugs so you can achieve the simple yet stylish bachelor's pad. But be careful in mixing colors. A little too much may make your pad look more like a playroom than a man's personal space.
Gaming Area
Men love video games or anything that would take the stress away. So a gaming area can be a great element to add to your bachelor's pad. Having a gaming area is your chance to integrate your favorite games, sports into the entertainment area of your pad.
Adding a pool table or video game set will surely entertain your guests. You can play a bit for this particular area of your pad, add more colors or decors as much as you like. After all, this is a safe space where you can channel the inner child in you during stressful days.
Designing your bachelor pad is a great experience. It will allow you to express yourself and show who you are as a person. If you have a hard time deciding what to do, you can always hire professional help to guide you.