If you're the kind of person who loves to entertain, then you know that having a home bar is essential. Not only does it make things more convenient for your guests, but it also makes your home look and feel more sophisticated. Whether you're starting from scratch or looking to upgrade your existing setup, here are a few tips to help you create the ideal home bar.
1. Invest in high-quality glassware
When setting up your home bar, it's essential to invest in high-quality glassware. Not only will this help make a good impression on your guests, but it also ensures that you don't have to worry about replacing broken or chipped glasses too often. Look for glasses made from durable materials like tempered glass, crystal, or even copper-plated stainless steel. It's also important to remember the styles of glasses you need for your home bar.
For example, do you need wine glasses? Highball glasses for cocktails? Or both? Depending on your budget and how often you entertain, it might be wise to invest in various glasses. This way, you'll always have the right glass, no matter what drink your guests have. With the proper selection of high-quality glasses, you can create a bar that looks and feels inviting — one that will make your home feel like an elegant and sophisticated space.
2. Get creative with your storage
When it comes to creating the ultimate home bar, storage is key. After all, you don't want your guests tripping over bottles and glasses every time they visit! So take some time to consider what creative storage solutions you can use. If space is limited, consider investing in shelves or wall-mounted storage options. You can also use floating shelves to make the most of vertical space and keep your bottles within easy reach.
Try an elegant bar cabinet or armoire if you prefer a more traditional look. This will give you plenty of hidden storage for bottles, glasses, and other bar accessories. Of course, if your budget allows it, custom built-ins can make for a truly luxurious bar setup. This will ensure that your bar looks neat and organized while creating a unique look that can't be found elsewhere.
3. Stock up on essentials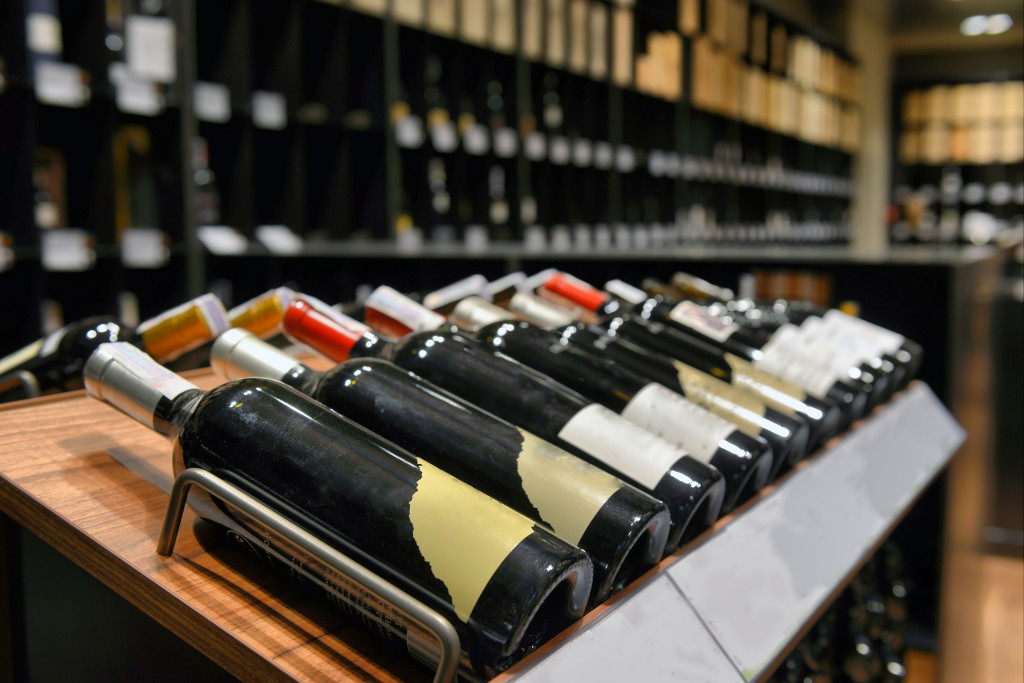 When it comes to stocking your home bar, there are certain essentials that you should always have on hand. Start with a few elemental spirits, such as vodka, gin, whiskey, and tequila. Then add some mixers like tonic water, soda water, and juice. You should also stock up on the basics for making cocktails, such as bitters, syrups, and liqueurs.
Don't forget the garnishes, either! Olives, cherries, and citrus wedges add a finishing touch to drinks. Finally, any good home bar should have an array of tools. A shaker and muddler are essential for preparing more complex cocktails, while a jigger is excellent for measuring exact amounts. These tools are all needed to help create the perfect drink for your guests.
4. Think outside the traditional bar setup
Creating a home bar doesn't have to mean adhering to the conventional structure. Instead, think outside the box and devise creative ways to make your bar stand out. For example, why not add some personal touches like framed photos or art? This will help create a cozy atmosphere in your home that your guests will appreciate.
You could also opt for unique storage solutions like wine racks, built-in cabinets, or even furniture pieces that double storage for bottles and glasses. If your home has an outdoor space, why not take advantage of it? Consider setting up a patio bar with folding tables and chairs to create the perfect spot to enjoy drinks in the summer.
5. Consider a theme
One way to make your home bar unique is by incorporating a theme. Whether you opt for something modern, classic, or eclectic, choosing a theme can help create a cohesive look and give your bar a distinct personality. Rustic themes are one popular choice for those looking for an inviting yet rustic vibe. Reclaimed wood beams, rustic furniture, and antique barware are all great touches to give your home bar a cozy atmosphere. To create a truly unique look, you can add reclaimed barnwood hardwood floors to create a rustic yet sophisticated aesthetic. Especially if your home already has a rustic theme, this is an excellent way to tie it all together.
Another option is to go for a more modern look, incorporating sleek furniture and metallic accents for an eye-catching contrast. For a modern theme, you can add a neon sign, mirrored surfaces, and glassware to create a chic atmosphere. Whichever theme you choose, ensure it reflects your style and creates an inviting atmosphere for guests. With the suitable theme, you'll have a unique home bar that will be the envy of your friends and family.
To Wrap It Up
Creating the perfect home bar doesn't have to be complicated or expensive—it just takes a bit of planning (and a dash of creativity). By following these tips, you'll be well on your way to hosting parties that everyone will be talking about long after they've left your doorstep!