Most people assume that to have a comfortable and stylish home, they need to spend a lot of money. But this isn't always the case! There are many ways to create a cozy and chic pad without breaking the bank. In fact, with some creativity and a little bit of effort, you can make your bachelor pad look like something out of a magazine.
Stick to a budget
Building the perfect bachelor pad doesn't have to break the bank. In fact, with a little creativity and some strategic shopping, you can easily keep your costs down while still creating a stylish and comfortable space. One of the easiest ways to stay on budget is to shop at second-hand stores or wait for sales at your favorite retailers.
You can also get creative with your furniture choices, opting for items that serve multiple purposes or that can be easily repurposed. For example, instead of buying a traditional bed frame, you could purchase a futon or daybed that can be used as both a coach and a bed.
Shop around for sales
There's no need to break the bank when building your dream bachelor pad. You can save big on furniture, appliances, and decor by shopping around for sales. And who knows, you might even find some amazing deals on must-have items that you hadn't considered before. So don't be afraid to hit up your local furniture store or browse online retailers for the best deals. With a little patience and effort, you'll be able to put together a stylish and affordable bachelor pad that will make all your friends jealous.
Buy used furniture whenever possible
When it comes to furnishing your new bachelor pad, it's tempting to splurge on all new furniture. However, buying used furniture is a great way to save money and get the look you want.
However, there are a few things to keep in mind when shopping for used furniture. Make sure to inspect the piece for any damage, and be sure to clean it thoroughly before bringing it into your home. You can find some great deals on used furniture if you take the time to shop around. Check out garage sales, thrift stores, and online classifieds for some great bargains. With a little effort, you can furnish your entire home with used furniture and save yourself a lot of money.
Invest in some essential gadgets
A bachelor pad is a place for you to relax, unwind and escape the stresses of daily life. It should be a sanctuary where you can truly be yourself. To make your bachelor pad as comfortable and inviting as possible, there are a few essential gadgets you should invest in. A good quality sound system is a must. Whether you're watching movies, playing video games, or listening to music, it's important to have great sound.
A big TV is another must-have – ideal for gaming, watching sports, or binge-watching your favorite shows. And don't forget about comfort! A comfy sofa or armchair is essential for relaxing, and a bean bag is perfect for gaming or lounging around. Your bachelor pad will be the perfect place to unwind and relax with these essential gadgets.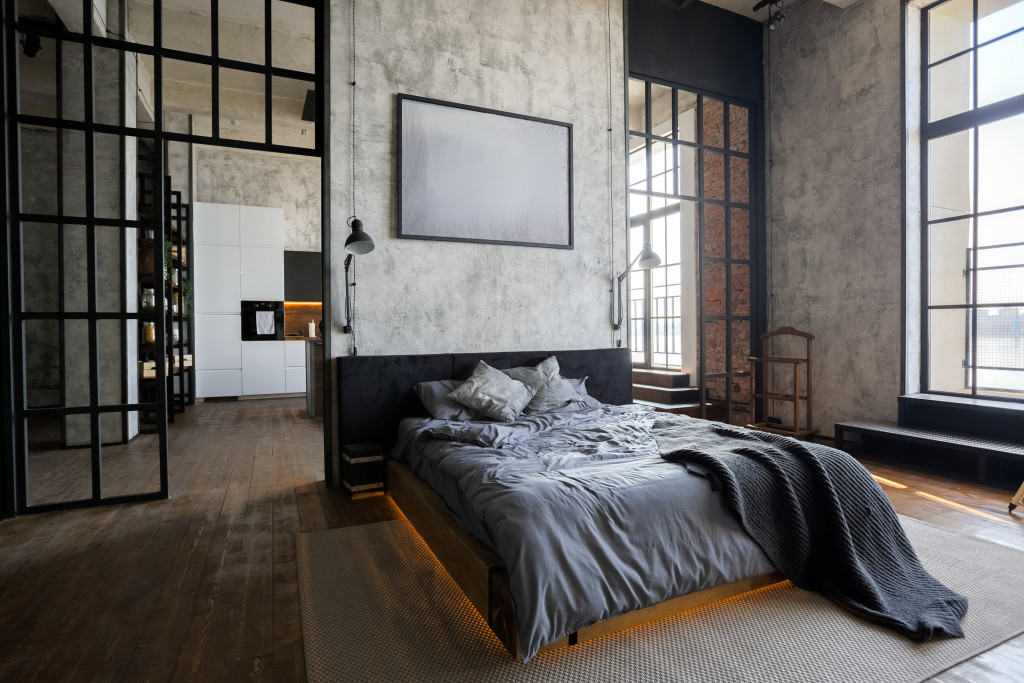 Hire professionals to help you
When you're ready to build your bachelor pad, it's important to hire professionals who can help you create the perfect space. Architects and interior designers will be able to help you maximize the use of space and create a layout that is both functional and stylish. They can also assist with selecting furnishings, fixtures, and finishes that will complement the overall design.
In addition, hiring a professional contractor will ensure that the construction process goes smoothly and that the finished product meets your high standards. For example, a metal roof specialist can ensure that your roof is installed properly and that it will withstand the elements for years to come. By working with professionals, you can be confident that your bachelor pad will be everything you've ever wanted.
Don't be afraid to experiment
When decorating your bachelor pad, don't be afraid to experiment with different styles and ideas. Trying something new can be a fun and exciting way to personalize your space, and you might just find a look that you love.
For example, don't be afraid to mix and match different styles – a modern couch with a traditional coffee table. And don't forget about accessories! Throw pillows, rugs, and wall art can all be used to add a personal touch to your bachelor pad. Have fun with it and let your personality shine through in your decorating.
Final Thoughts
Creating a comfortable and stylish bachelor pad doesn't have to be expensive. By following these tips, you can save money and still have a great-looking home. So start planning your perfect pad today!